Torrevieja is a coastal city on the Costa Blanca, where you can breathe fishing and maritime culture. Its salt history is very relevant, since Torrevieja began to be inhabited as a municipality due to those known around the year 1800 as Reales Salinas. 50 kilometers from Alicante, Torrevieja is becoming year after year one of the most popular places for tourists from all over the world.
When the good weather begins in its streets, that cosmopolitan atmosphere comes from all those tourists who, with their different and complicated languages, invade the quiet streets of Torrevieja with strange sounds.
In addition to its fantastic climate, Torrevieja can boast of having some of the best beaches in the province of Alicante. From Perfect Car Hire we want to let you know about other alternatives to spend your free time away from the sun and the beach for a few hours doing something different and enjoying the province at any time of the year.
What are the places that I cannot miss in Torrevieja?
Torre del Moro: A historical piece from the 14th century used in its day to defend the Mediterranean coast from pirate attacks. It is located in Cabo Cervera, one of the highest points in Torrevieja. Precisely one of the most advanced areas for holiday accommodation in Torrevieja, with plenty of bars and restaurants nearby.
Torre de La Mata: Like the Torre del Moro, the origin of this tower dates back to the 14th century. In front of the tower there was a jetty into which salt from the La Mata lagoon was loaded. Do not miss its spectacular views.
Parque de las Naciones: One of the most important green spaces in the urban area of ​​Torrevieja. Inside is the Hermitage of San Emigdio, as well as a small lake and the old cisterns of an old estate. Enjoy a pleasant walk that will delight the smallest of travelers.
Coves: It is worth visiting some of the rocky coves of Torrevieja simply for the views and their natural surroundings. One of the best known is Cala Ferrís, located south of the town center and surrounded by numerous palm trees.
Sociedad Cultural Casino de Torrevieja: Be sure to visit this beautiful modernist building from the end of the 19th century. It is worth going in and discovering its interior decorated in Nasrid style and its main hall, while you have a drink surrounded by history.
Paseo de Vista Alegre: The best known walk in Torrevieja. A space where you will find interesting sculptures and monuments dedicated to the Habaneras. It is located next to the Real Club Náutico and the Eras de la Sal. A pleasant walk with the smell of the sea.
Luckily, Torrevieja is within easy reach of amazing destinations to plan a same-day excursion.
Four of the best excursions near Torrevieja.
1. Tabarca Island: This trip can only be done by boat between the months of May to October. The island of Tabarca is well nourished in stories of pirates and settlers. Its colorful surroundings are accompanied by its inseparable walls, churches and even a lighthouse that give even more splendor to this area. It also has a delicious maritime gastronomy. This island full of charms was declared a Historic-Artistic Site in 1964, walking its streets is a real privilege. Whether you take the boat in Alicante or in Santa Pola, you have numerous car parks where you can park your rented vehicle.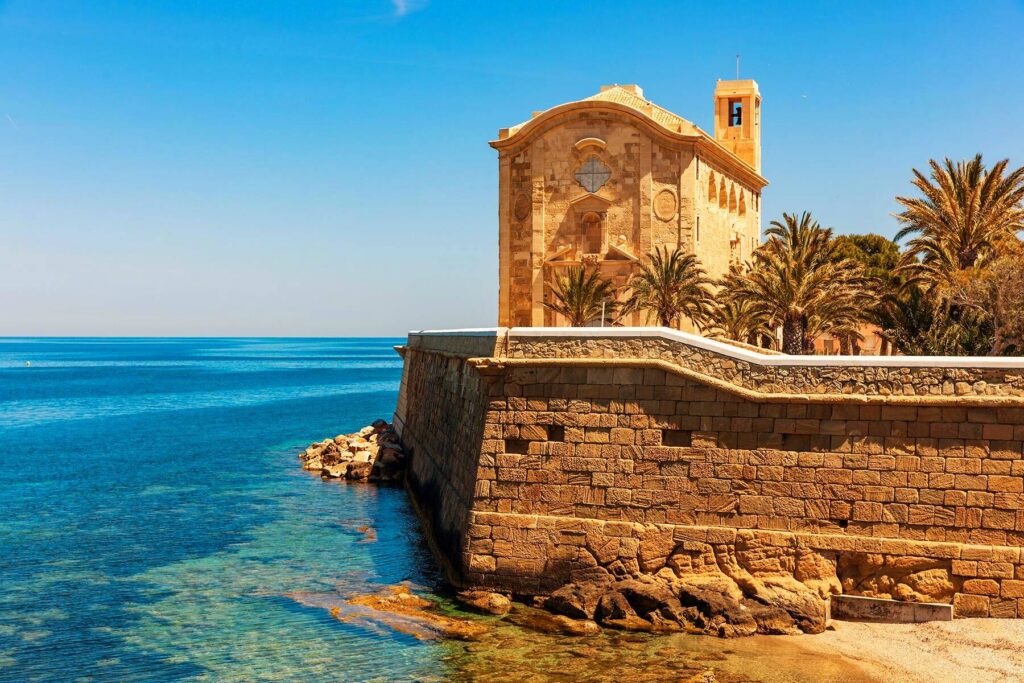 2. Altea: Preferred and chosen place by many artists, so much so that many of them have their galleries and studios here, without a doubt a small paradise for art lovers. Something very characteristic of Altea is its blue tiled roofs that dominate the heights, especially those of Nuestra Señora del Consuelo, at the top of a cobbled street that dresses up in verbena in summer. Despite the popularity that it has acquired year after year among tourists, Altea continues to retain that charm of a small Spanish town, so much ours. It is located very close to Benidorm, just 15 km to the north, a visit that you cannot miss in your rental car.
3. Las Fuentes de Algar: This natural area of ​​great ecological wealth has been declared a protected area by the Valencian government. To get there, go to Benidorm and then towards the interior of Callosa d'en Sarria. You will have to walk 1.5 km along a marked route along the Algar riverbed. Being able to admire its waterfalls and take a dip in its naturally formed pools of crystal clear and refreshing water is a divine pleasure. An excursion that you will not forget.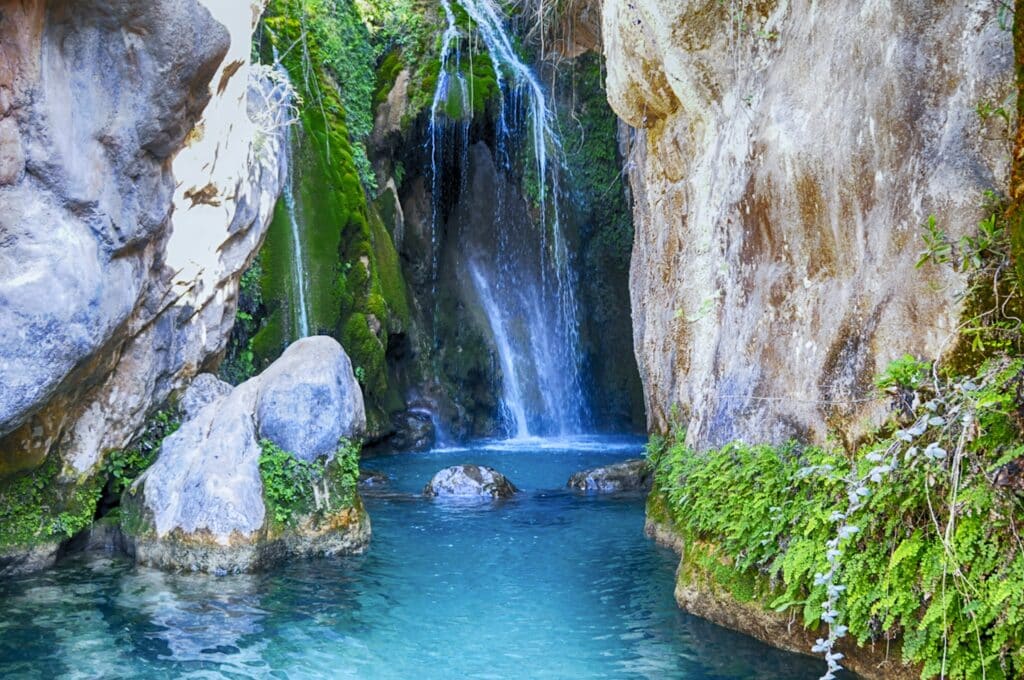 4. The castle of Guadalest: A perfect combination between nature and architecture that shyly appears between the large rocks of its mountains. Guadalest is an excursion that will take you to the Sierra d'Aixorta. It is one of the most visited places in Alicante. The beauty of the environment is mixed with its famous medieval castle San José, which is reached through its cobbled streets, its tower stands out as if it wanted to touch the sky, perched on a large rock. For such a small city, Guadalest is a city rich in museums, including:
• Antonio Marco Museum. Bethlehem and Dollhouses.
• Museum of microminiatures.
• Microgiant Museum.
• Ethnological Museum. House Typical house of the eighteenth century.
• Medieval Historical Museum. Museum of Instruments of Torture.
• Ribera Girona Museum. Magic Garden.
• Museum-Collection of Historical Vehicles "Vall de Guadalest".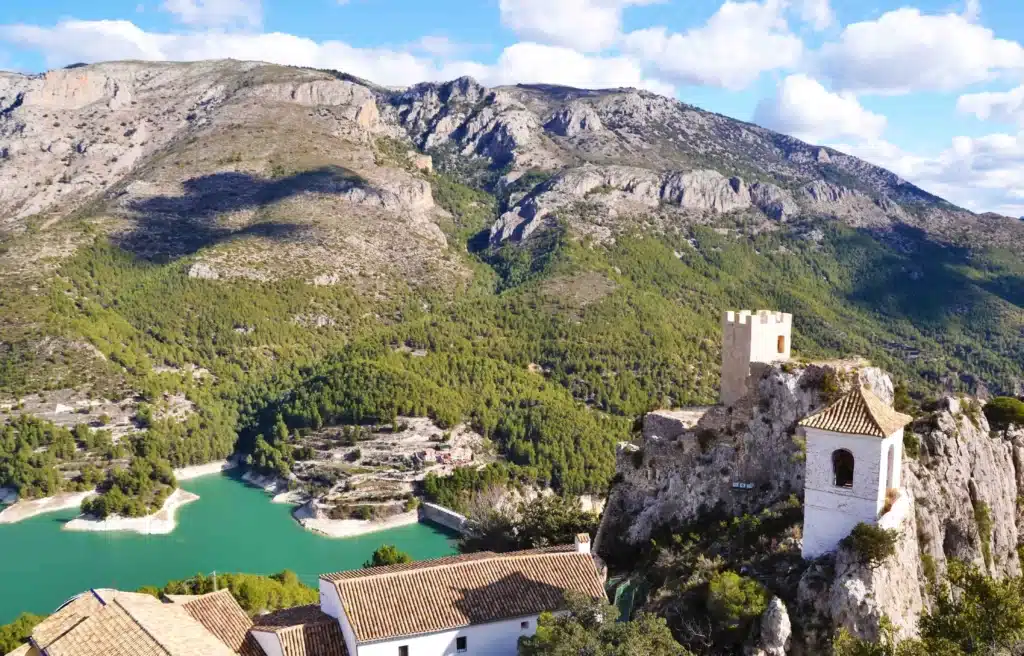 We will continue to add more suggestions to this list of excursions, as it is by no means complete. There are more destinations worth discovering, some closer to Torrevieja and others further away, but all with that special charm capable of making you get the most out of your rented car. Enjoy your visit to the fullest!