Car Hire Orihuela Costa, La Zenia, Villamartin and Playa Flamenca
Torrevieja is one of the cities with the most tourist attractions in the province of Alicante. It boasts incredible places like Orihuela Costa, La Zenia, Villamartín and Playa Flamenca. There you can visit some of Spain's best beaches with places you will remember forever. To enjoy a well-rounded experience, the best option is to hire a car in Orihuela Costa, La Zenia and their surroundings.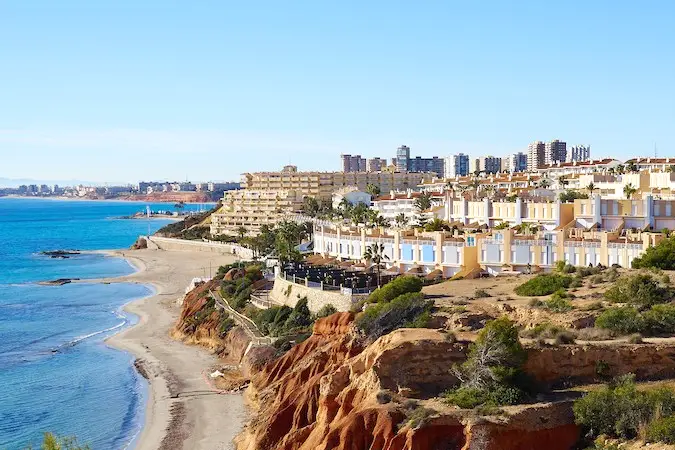 Booking a car hire service in Orihuela Costa before your trip will enable you to visit all of the places you want to with complete freedom. You can choose your own routes, listen to your favourite songs and organise your itinerary without any drawbacks. All without relying on public transport, guides or any other third party.
What can I visit near to Villamartín by car?
Hiring a car in Villamartin
will enable you to visit all of the cultural attractions near to this area. The perfect place for golf lovers since it has two first-rate golf courses, including the Villamartin Golf Club and Las Ramblas Golf Course. This development is perfect since it boasts a variety of leisure and services such as bars, nightclubs, caffes and restaurants as well as other services including banks, supermarkets and health clinics. Stroll through its central square and enjoy the palm trees and parrots. Visit nearby beaches with your hire car in La Zenia, which is very near to Villamartín. Without a doubt, having your own car will open doors to a plethora of incredible experiences.
What do I need to hire a car in Villamartín?
If you want to
hire a car in Villamartín
, you just need to book online. You can book in advance, even during the high season. Equally, you can choose the features you want for your hire car at an additional cost.
What insurance should I choose when booking a hire car in La Zenia?
Our
car hire service in La Zenia
includes fully comprehensive insurance for the vehicle. You won't need to pay an excess or additional charges in the event of damage, theft, loss or an accident. We will take care of all of these details so you don't have to worry about them on your holiday.
Which is the cheapest car hire in Playa Flamenca?
We have a wide variety of vehicles at our
car hire service in Playa Flamenca
. When you make your request, we will show you different options to suit any budget. Smaller cars are usually the cheapest. They are ideal if you are travelling alone or with a maximum of 3 other people.
You may also be interested in: