Are your holidays coming up and you are planning a route by car? Do you not have your own vehicle or are you used to traveling by public transport? If you want to travel around Spain in your rental car, it is important that you know the safety rules, the roads, regulations… But also some aspects about renting a car.
As one of the most geographically diverse and culturally rich countries in all of Europe, from the spectacular sun-kissed beaches of southern Andalusia to the views of the Cantabrian mountains, a trip to Spain is something all travel enthusiasts should take part in. least once. Spain has the second largest number of UNESCO World Heritage Sites and the largest number of World Heritage cities in the world, all the more reason to explore this impressive country.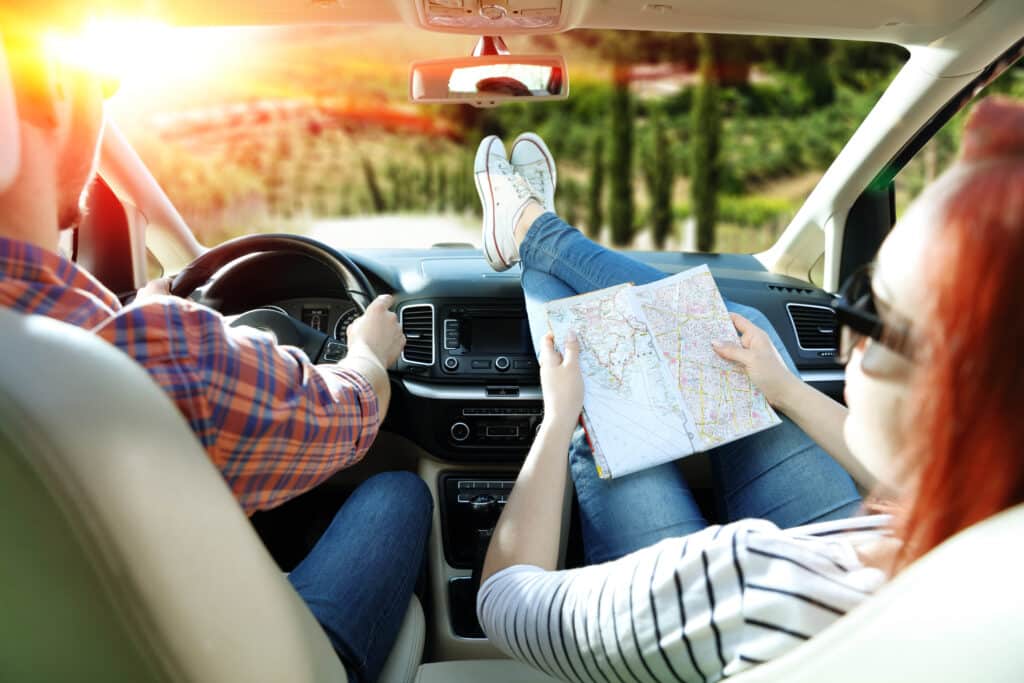 Some information will seem obvious to you, but sometimes that which seems so obvious we forget and it is important that we remember it:
1.- Sit correctly at the wheel: Being a rental car, you must adjust the height of the seat, the inclination of the backrest, the headrest, the steering wheel and the distance from the seat to the wheel. This will make you more comfortable and at ease when driving. Modifies also the mirrors so that you have the greatest visibility.
2.- Fasten your seat belt: As you know, fastening your seat belt before starting the car is an essential safety rule. Remember that it is mandatory for all passengers, so all occupants of the vehicle must wear it fastened. If you are going to travel with children, they must also be secured with approved retention systems for their weight and height. At Perfect Car Hire we have adapted seats that comply with the regulations for the safety of the little ones. In addition, on motorcycles, bicycles and mopeds the use of a helmet is mandatory.
3.- Do not use your mobile: Driving and using your mobile phone at the same time is totally prohibited and not only because of the possible fine imposed, but also because it can divert your attention from the road and end up in an accident. If you need to use the GPS, a companion can give you the necessary instructions, or you can hire the GPS offered by Perfect Car Hire to have a safer and distraction-free driving.
4.- Do not drink alcohol before driving: The consumption of alcohol and drugs are among the main reasons for traffic accidents.
Remember that with a couple of beers or a couple of glasses of wine you can test positive and you can ruin your trip.
5.- Trust the highways: Tourists and travelers visiting from the United States often express their concerns regarding the many differences they will experience when driving in Spain, compared to their home territories. Motorways and highways are plentiful throughout Spain, providing easy access to almost all major destinations. Unlike many other European countries where the roads have a reputation for being a bit dangerous and dilapidated. Spain has undergone an incredible amount of infrastructure redevelopment, tourists are commonly surprised by the rarity of traffic jams, the ease of use and the general efficiency of the roads.
6.- Respect the speed limits: The new speed limits approved for all Spanish roads are 120Km/h for highways and motorways, 90Km/h for conventional roads or 100Km/h if they are conventional roads with physical separation between two directions, and 30Km/h for unpaved roads.
7.- Be patient with parking: If driving in Spain is easy, parking can be the opposite. The most touristic areas such as beaches or coves usually lack sufficient parking spaces, so many vehicles do many crazy things to get to leave the car in strange crazy places that harm parking maneuvers. This can pose a threat to rental car drivers, unless equipped with comprehensive insurance. Avoid and check the small frictions and scratches of your rental car. And keep in mind that parking on public roads is not always allowed or free. In many cities, parking areas are regulated and chargeable. They can usually be identified by there being parking meters in the area.
8.- Rest before driving: If you are going to make a trip by car you will have to drive for many kilometers, so we recommend that you stop to rest every 2 hours because if you drive tired or sleepy, you may suffer loss of attention and the reaction time to an obstacle. Take advantage of these stops to stretch your legs, cool off and get some fresh air. Another alternative is that if you go with another person who has a driving license, you take turns so that the trip becomes more bearable.
9.- Which roads are toll roads and which are not? In Spain, the vast majority of roads on the national network are free to use. However, there are a number of highways that may require the payment of a toll although, in general, there are alternative routes that are free to use. You can check which toll roads are through this website. The toll payment can be made in cash, by credit card or by electronic toll (App).
10.- What licenses are compatible in Spain to drive? If you travel in your car, you must find out if your driving license is valid to drive in Spain, if you must exchange it or if you need to obtain the International Permit. Permits issued in countries of the European Union and the European Economic Area (Iceland, Liechtenstein and Norway), are fully valid to drive in Spain as long as they are valid. If you come from any other country, it is advisable that before coming, you obtain an international permit in your country. This is valid for one year and is a complementary permit, so whenever you are going to use it you have to accompany it with your passport and your foreign driving license. Remember also that it is essential to have valid international insurance.
When renting your car, the first thing you should know is the coverage options offered by Perfct Car Hire and choose the one that best suits your needs. The coverage of an all-risk insurance that will allow you to rest easy during your vacation. This coverage covers possible damages that the vehicle may suffer and has 24-hour assistance.
All clear? All that remains is to choose the dates for your trip and your rental car at Perect Car Hire. You are ready to enjoy Spain!